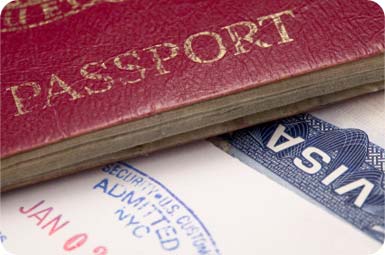 About Travel and Visa
Online Visa Applications Since 2009 Travel and Visa has provided online visa services and U.S. passport solutions enabling travelers to apply online for Visa's. Using unmatched, cutting-edge online technologies customers can apply for travel Visa's simply by filling out one universal, 100% paperless electronic form. We can also obtain, renew, replace or add pages to passports for U.S. Citizens. Travel and Visa is a travel management company.

At Travel and Visa we understand no business can afford to neglect customer service of the highest caliber. We promise that clients will experience nothing but the best levels of service – this is a standard we set for ourselves. We keep customers informed with a dedicated US-based call-center, a rapid response e-mail system and live chat which are all available to customers.

We continuously pioneer and update technology to ensure that our customers will find the process of applying for a visa safe, convenient and remarkably fast. Supported by real-time 24/7 tracking and online status updates that are available to all customers.

Whether you require a visa for one country, or multiple destinations our application process remains simple. Better still, you don't have to stand in line at an Embassy and/or Consulate, just submit your application, mail us your documents and Travel and Visa will seamlessly take care of everything else.

Travel and Visa takes the extra step in safeguarding your personal information. Our website is constantly monitored against compromise of any sort, guaranteeing safety and integrity. Travel and Visa will never share your information with any third party. We use the latest SSL Certificate technology providing the highest level of online assurance available.  We do not store payment information such as credit card information. All customer information coming from our website into the database is secured and encrypted. We always shred the clients paperwork by using a third party company called Iron Mountain to make sure none of your paperwork end up on the street by accident.

Our experience and understanding of the sometimes confusing Visa and/or passport requirements allows us to assist you in obtaining your Visa and/or passport as quickly and efficiently as possible.

Travel and Visa specializes in assisting applicants with obtaining and expediting visa(s) for international travel. We work on your behalf directly with each embassy assisting you in expediting your visa application in as fast as the same day! Our experts have many years of visa processing experience and our network of contacts within the embassies and consulates helps us to achieve what others promise to do, but can't.

Travel and Visa is dedicated to customer service and satisfaction. Our friendly, knowledgeable Passport and Visa specialists are at your service. They are trained to assist you through each step of the expediting process. Our customer service policy is simple; make the travel document application process simple and worry-free for each client. Our specialist provide rapid response to your order and ensure the security of your personal documents, giving you peace of mind.

At Travel and Visa, we recognize the international nature of our business. Travel and Visa,  specialists are experienced travelers who understand the essential nature of your documents to the success of your travels. Please feel at home when doing business with us and always convey to us your opinions, and special travel needs.

Our goal is to provide travelers with the best professional service at the lowest prices.

We are a U.S. based Visa and Passport expediting service agency. Our services are unique. We have an experienced and reliable staff to facilitate each visa or passport process, no matter the degree of difficulty. Travel and Visa understands that not having the proper documents can result in an unnecessary travel delay and even ruin an important business transaction. We take pride in our services, and guarantee satisfaction in order to minimize unwanted delays. When you need an expedited visa and a U.S. passport services, we're here to help.
For the convenience of our clients we offer several processing options in order to help the needs of travelers.